Medical Tourism Website Launch by ICO WebTech Pvt. Ltd.
ICO WebTech celebrates the successful launch of medical tourism website of our client Well Being Medical Services (WBMS), based in New Delhi, India.
The client required the website to be simple yet impactful. He wanted to focus on two color primarily – Blue and Green. Our design team suggested a hint of orange to be included in the website so as to break the monotony.
Here is how the website looks in the first scroll: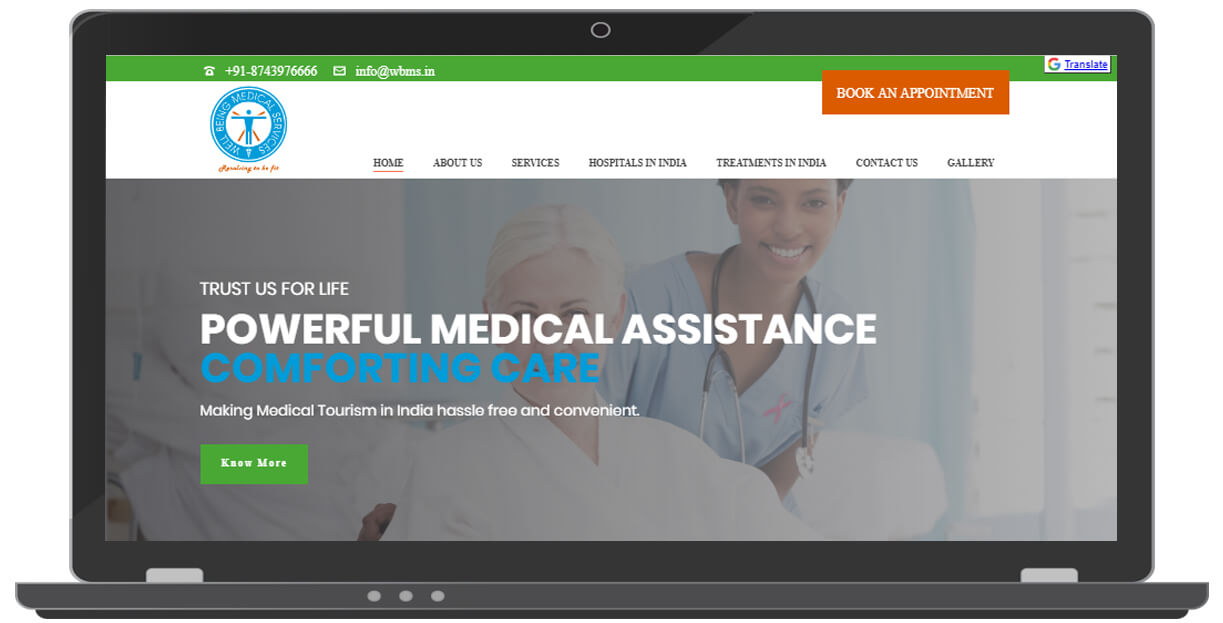 Content Writing for Medical Tourism Website
Our content writing team did a great job for our client. We wrote the website content in a very simple manner, which is easy to understand. And has all the information necessary for the client's services.
The client wanted a Google Translate button in the header of the website. This means that the website's content should be translated in an easy to understand respective language of the selected lingual.For this reason, our content writers took extra care in writing content for the medical tourism website.
Mobile Friendly Website
The medical tourism website is extremely mobile friendly. This means that the website is
easy to read,
neatly placed and
loads fast on mobile devices.
Having a mobile friendly website is very important now a days. Because almost all the users prefer to make a search on their mobile phones or tablets. In fact Google has made it one of the Google Ranking Factors.
Therefore, as a SEO company in Delhi, we always take extra care to make our website mobile and tablet friendly.
Read all the information about this medical tourism website in our Portfolio.
Contact ICO for Website Design and Development
Looking for website development from a local company?
Contact our website design company in South Delhi for a responsive website.