Top Responsive Blog WordPress Themes
Responsive web design is a way of crafting websites so that it looks good across devices like PC's, Phones, and tablets. It basically uses CSS and HTML to resize, enlarge, shrink,move the content to make it look good everywhere. Responsive web design is becoming more important as the number of people who use internet on the phone has increased dramatically. So if your website is not mobile friendly it can be a great concern for your business as it is an important search engine ranking signal.
Here are a few great responsive blog WordPress themes.
Genesis WordPress Theme
So here is a advanced, fast, flexible and secure WordPress theme Genesis by StudioPress. The state of the art code and smart design architecture has made it popular among the developers. And to add on to the positive features of the theme it also offers a mobile responsive design and includes convenient inbuilt layout, design and SEO options.
Genesis offers a lot of inbuilt features like option to change the layout of the theme, or may the colour scheme. Not only this wordpress widgets give that little extra to the functionality of your website.You can also update your site instantly. To ensure safety from hackers and virus Genesis also follows all word press security best practices.
Master Blog WordPress Theme
If you you are looking for a personal blog or may be even a professional blog this is the one best for you. To make the content look good and stand out it has a bold, modern design with big featured images along with large typography. The theme also offers a very wide with width of 1180 px which fills large displays nicely for a professional look. Because of which it give you same results for all the devices without any hitches.
Some of the other features include an optional feature posts section, support for WordPress post formats, useful custom page templates, various widget areas through the theme, built in options to easily add your own logo, change the lead and menu colours and more.
WP-Radiance WordPress Theme
Now this is a theme that can do wonders to you and your work as it caters to any type of website including professional blogs, online magazines and business websites. Its an excellent responsive premium WordPress theme from Solostream. This flexible, multi-purpose theme is packed with features and has a clean and professional design along with a responsive layout which adjusts for any screen and device . WP-Radiance comes with multiple homepage layouts: a default blog / magazine structure as well as an optional business homepage template. Briefly some of the other features include features posts and pages sliders, portfolio templates, lots of pages templates, in-built banner ad locations, theme settings page for easy customisation and more.
Dolce WordPress Theme
Dolce is a simple but stylish responsive blog / magazine WordPress theme from cssigniter. The premium has a minimal but sophisticated design and hence is best for blog or a magazine website. It has 6 homepage layout options from a traditional blog layout to various magazine style designs with slider and featured articles sections.It gives you an option of selecting between articles, galleries, and vidoes for your posts. Some other features are- numerous custom widgets, shortcodes, settings options panel and of course the responsive design so it will look perfect on tablets, mobile phones and all other devices.
WP Professional WordPress Theme
WP Professional is a clean and versatile premium WordPress theme from Solostream ideal for consultants, coaches, professional and personal bloggers. Now this one has a mobile responsive design hence it automatically adjust to fit any screen size and device. The theme also has a never ending list of features including: an alternative business homepage layout, email capture form, featured slider, multiple post and page layout options, video and portfolio templates etc.
Personal WordPress Theme
Now this is the one for you if you are a writer, journo, videographer or a blogger .Personal is a super clean, minimalist WordPress theme. The premium theme from Obox has a customisable, content-first design to promote your work and help you shocase the same to th e workd with an ease. The theme has a flexible homepage layout with a simple drag and drop widget system to give you endless layout possibilities.
One need not worry about the vastness of your content beacuse it has as many content categories in different layouts and orders as you like on the homepage. And as if it was less there are more features including: a visual customizer to make changes to your theme without needing to code, Obox Typography Manager to change all the fonts, social links and social widget, custom background, logo and menu options and much more.
Elemin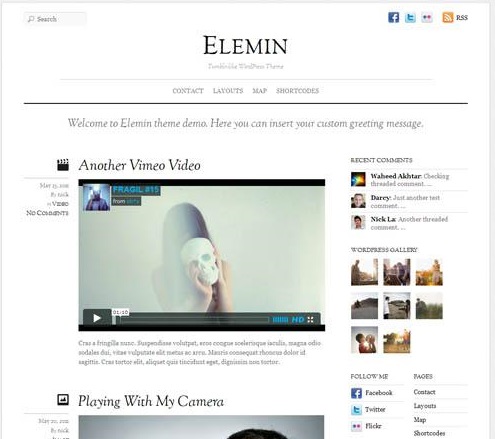 A stylish minimal and responsive WordPress premium theme from Themify. This one comes with a good white balance, less graphics, and has beautiful typography. The layout automatically adapts based on the user's viewport. It works on all desktop and most mobile devices such as iPhone, iPad, Android, and Blackberry. Other features include list view or multiple grid view layouts, WordPress post formats support, 11 colour skins, comprehensive options panel and more.
WP Clear Video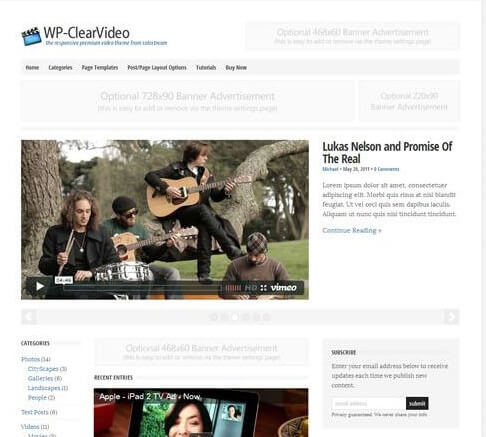 A responsive WordPress theme from Solostream for bloggers or video bloggers. The premium theme has a clean and professional design with a responsive layout delivering an optimized design on whatever device it's being viewed on. Featured include an alternative business homepage layout option, featured posts slider, YouTube videos page template, portfolio page template, multiple post and page layout options, theme setting panel and more.
ICO WebTech Pvt. Ltd. pioneers in creating website using WordPress , just contact us and leave all the design and development related worries to us!