What is Gutenberg and should you update to WordPress 5.0?
If your are in any way associated with WordPress Websites then you must have felt the vibration in the WP world. The talk is about the Gutenberg in WordPress 5.0 update. The latest WordPress editing tool which is supposedly going to affect the working capacities hugely.
WordPress 5.0 comes out on the 6th of December 2018, and with this update you can download the new new editor – Gutenberg.
While some WordPress Developers are quite positive about it, but some have blunt negative comments for Gutenberg. While there are some percentage of users do not have an understanding about Gutenberg.
In this post we will learn about Gutenberg and should current WordPress users should update to it or not.
What is Gutenberg?
"Gutenberg is much more than just an editor."
The first phase of Gutenberg will come with WordPress 5.0. And it will be focused on "The Editor" part. Gradually, in the next phase, it will influence the complete publishing environment.
It is believed to evolve the overall process of site building in WordPress which also includes the process of creating custom pages.
Here is how the Gutenberg editor looks:
Gutenberg Plugin will be available in the WordPress 5.0 websites. The classic editor will still be available for use in WP websites.
Learn how to excel the Visual Editor.
With Gutenberg plugin, you can play freely with the media equipped pages and posts. Blocks – which are the key editing component are easy to use for the first timers and moldable for the experienced WordPress Developers.
Some of the many advantages and features of using Gutenberg are:
Less plugins, greater functionality
Modern multimedia layouts are easier to create now
Responsive layout of blocks
The editor is the live preview of your website
Here is the comparison of Gutenberg with the Current Editor:
Create anything using "Blocks"
Gutenberg is all about giving an enhanced user experience for heavy multi media layouts. And Blocks are the base behind giving this experience of creating engaging content.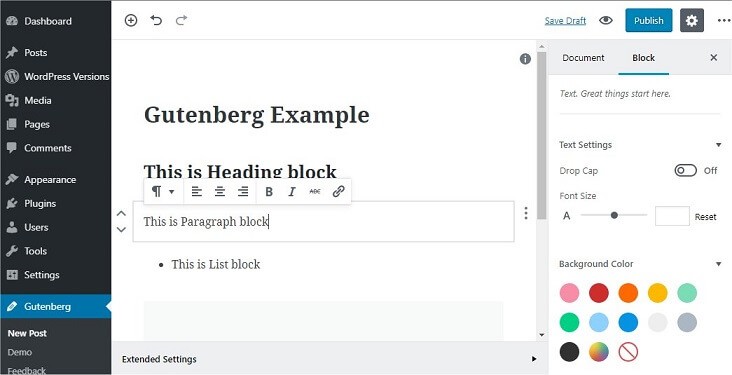 By using Blocks you can master the styling of multimedia content with limited technical awareness. Now you can add a block, rearrange it, style it and add your content – that's it. No need of getting into custom coding to get the desired output of your page/post.
Should you update to WordPress 5.0?
There is no rush in updating your site to WordPress 5.0 version. If you have a planned holiday or have year end detailing to take care, then the update can wait.
The release will be active in the month of January, too. Moreover, as per plan there will be various patch releases, therefore, January is considered to be more stable for the update.
Are your site plugins compatible with Gutenberg?
If your site plugin works with the editing experience then it is advised to test (either by mock testing or by confirming with the plugins certificate) if they are that they are all set to work with Gutenberg.
For example
Wordfence plugin do not interact with the editor. Hence, it will not be influenced by Gutenberg. But a page builder plugin like Visual Composer does work in the editing environment. Therefore, it can run into some issues.
Note: Your website's current theme, already published pages and posts will not be impacted by Gutenberg update.
If you are updating to WordPress 5.0 then…
Backup your site, without miss.
In fact, if you ever make any changes or updates to your website. And you are not sure about its performance. Then it is always recommended to take backup of your site to avoid any regret. Ask your WordPress website Developer to take regular backup of your website at set intervals.
Overall
Gutenberg in WordPress 5.0 update is expected to change the editing experience altogether. Yes there are many apprehensions and inconvenience attached to it. But as they say no pain, no gain.
However it is advised to wait till January to make the update. But we all are looking forward to an innovative and improved editing experience.
If you need any help in updating to WordPress 5.0. Or, need to have a website in WordPress then contact our team in Delhi-India, and we will get back to you in 24 hours.
Good Read: