10 Reasons for developing companies to create business website on WordPress
As a WordPress website design company many a times we have been asked questions like:
Why should I create a WordPress website rather than creating it on platforms like Joomla, Drupal, Wix, Weebly, or Squarespace?
Or
Is WordPress good for business website?
Well, the answer are the benefits of developing a business website on WordPress. WordPress first came into use in the year 2003. And since then there has been no stopping. What was initially considered just a blogging platform has now developed into a desired and dominant open source web development platform.
WordPress is undoubtedly the most extensively and most loved Content Management System.
Moreover as per the W3techs.com statistics in 2016 business website on WordPress accounts for 25.6% of all new websites built using content management systems. This mark of WordPress coverage on web has further increased to 31.7%
Source: https://w3techs.com/technologies/history_overview/content_management/all/y
Another interesting comparison.
As per the data from W3techs for market share comparison of websites built on the entire web whether or not it uses a CMS:
Business Websites on WordPress now claims 60.2 percent of total market share. This is an excellent increase from previous data of 58.7 percentage coverage in November 2015. Its noteworthy here that Joomla, the all-time closest CMS competitor, has witnessed its usage hike from 2.8 percent to 3.1 percent. Whereas Drupal has shifted from 2.1 percent to 2.2 percent.
The above comparisons have made it all the more clear that WordPress can be used to develop websites for any vertical. Whether you wish to create your
Portfolio website,
or a blogging website,
or an ecommerce website,
or job portal,
or a social networking site,
or any other custom website
WordPress makes it easy and hassle free for you to create your first business website on WordPress. By choosing the right WordPress plugins you can create the website for your start-up business, in an easy and efficient manner.
10 reasons to build your business website on WordPress
Still not convinced to create your business website on WordPress? Here are the 10 most convincing and powerful reasons to build your website using WordPress.
#1. WP goes light on your pockets
It's all in the past when building websites used to cost you a fortune. With WordPress Designing and Development you can create websites at much cheaper cost. And that too without compromising on the way you want to style your website.
The website maintenance cost of a WordPress website is relatively quite less. This is because the website owners can update the website themselves, instead of hiring a developer/designer every time they want to make an update.
You may also be interested in reading:
#2. No need to hook on to your personal computer to update website
You don't have to have your personal computer to update your business website on WordPress. You just need to have internet access and you are good to go. This way you can update your website's content even on your mobile phones or tablets.
Can it get better than this?
I don't think so.
Use WordPress efficiently with these tutorials:
#3. WordPress Websites are SEO ready
A business website on WordPress is user friendly and SEO friendly too.
WordPress websites use the coding and mark-up which follow best practices. Therefore, these websites are appreciated by search engines.
You can also install free SEO plugins like Yoast SEO plugin to describe individual pages' Meta Content. You can also specify the heading tags (H1, H2, H3 and so on), image alt tags and description which are very useful for sending signals to the search engines for related queries.
Know more about WordPress SEO :
#4. One website for all devices
As per Statista in 2018, website traffic from mobiles cover 52.2 percent of all website traffic worldwide.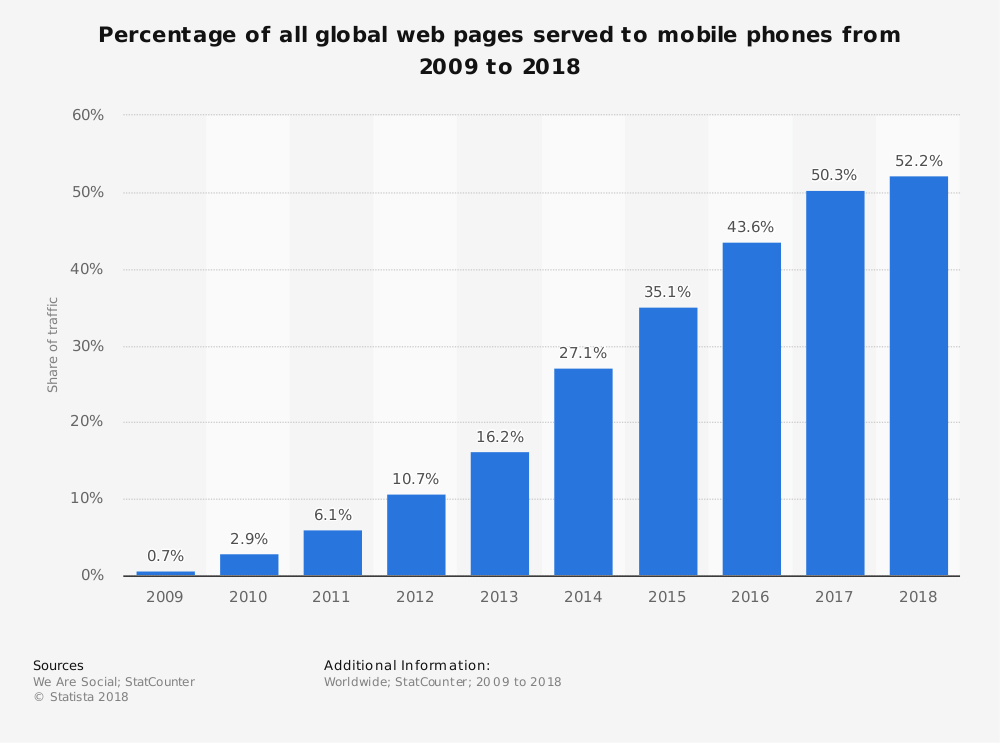 Therefore it is very important for website owners to have a responsive website for their business. Business website on WordPress gets the advantage of being responsive in functionality. Therefore the website owners will not have to create separate website for different devices. Thereby saving a lot of time and money.
Here's a good read:
#5. Appropriate Syndication
Content Syndication is an excellent way to earn inbound links for your own website. You can make settings in your WordPress backend such that any new post added to your blog will automatically go to a RSS feed. Thereby making it simpler for others to syndicate your posts through directories and other websites.
#6. Easy to add functionality to business website on WordPress
There are times when the features that looked all great and useful do not appeal much a year later or so. Now if you have your website built the conventional way using more complicated platforms, then it can give you pain.
But with WordPress websites it's really very easy. You can either search or install a WordPress plugin matching with your requirement. Or look up to the WP community, which is very active, for the feature you wish to add to your website. There are very good chances that the community members have already written the code for you to enjoy.
Here are some tips to use WordPress:
#7. Makes way for Content Marketing
Content makes the base for every Digital Marketing campaign, and WordPress has the best raw materials to carve the best for content marketing operations.
From adding content in terms of videos, images and text to updating the design for special campaign/offers, WordPress makes everything as easy as a pie. Moreover, when you update your content regularly you earn brownie points for credibility from search engines.
You may also be interested in reading:
#8. Social Media Integration in an easy-breezy way
Social Media Marketing is another channel that brings tons of genuine organic traffic to your website. Therefore it is very important to keep your social media accounts engaged. So that the followers are kept updated of the new happening and latest news.
This makes it significant for all website owners to integrate their social media accounts with their websites. Traditionally it can be quite exhausting.
But with WordPress theme websites all you gotta do is integrate all your social accounts with your website. So that whenever you post a new blog entry it gets shared among all the linked social accounts.
No hassle of logging in to different social media accounts and posting the update separately. Just one activation and you are good to go.
Find more info on Social Media Marketing:
#9. Keep your website safe from hackers
There were many raising concerns for site security of a WordPress website when WP was launched initially.
But now it's practically possible to make a hack-proof website with the help of WordPress. All you need is an experienced WordPress Website Development Company to increase your site's security.
Also read:
#10. Designer/Developer Friendly
Not able to reach out to your regular WordPress developer?
Not an issue, if your website was developed on WP. But if it's developed on some other platform then the transitioning from one designer to other can be really difficult. This is because every web design company has its own preferred platform.
But WordPress functions on a common open source platform thereby making it stress-free for website owners to switch from one designer to another.
Conclusion
There are many developing or start-up businesses which either do not have the money or the time to develop a website on a sophisticated platform. Therefore WP is an awesome option for them to develop their business website on WordPress irrespective of their technical knowledge.
By building a website on WordPress you save time, money, make it more SEO friendly, more secure and easy to update.